INSPIRE

Owing to the success of our Summer Term Campaign (#UNITE) we launched #INSPIRE in 2020 Autumn Term and it ran through to Spring 2021. #INSPIRE focussed on the provision of support and virtual challenges / opportunities for school staff and their pupils. The Programme was introduced with the aspiration of promoting togetherness across Gateshead whilst encouraging a little fun, creativity and competition along the way.
Although these programmes have officially ended, you can still access the resources to use in school for the #INSPIRE Skipping Challenge and the #INSPIRE #DANCEREUNITE Programme. You can find everything you need on our resources page here by using your log in details. You can read all about the other #INSPIRE projects on this page also.
#INSPIRE - SKIPPING CHALLENGE
This progamme provided schools and parents/guardians with a range of resources to help children in Key Stage 2 (school years 3-6) learn and master 10 separate skipping skills. We released two skipping skill tutorials each week, affording participating schools and pupils at home, the flexibility to determine how best and when to engage. The overarching aim was and is still simple, to get as many children as possible skipping!
You can still take part and find all of the tutorials for the #INSPIRE Skipping Challenge on the resources page using your log in details.
#INSPIRE Skipping Challenge - SAFETY TIPS DOCUMENT
#DANCEREUNITE
Following the success of #DANCEUNITE, we introduced #DANCEREUNITE with the help of The Creative Dance Centre! This resource included a range of supporting material designed to support children to develop a dance routine of their very own using the #DANCEREUNITE music or a track of their choosing.
You can still access all of the tutorials to improve your dance skills on our resources page using your log in details.
NB - this resource is more suited to pupils with dance experience and so suitability should be assessed before participating.Use the link below to access general safety guidance for pupils undertaking #DANCEREUNITE activities at home; Safety Considerations
VIRTUAL TORCH RELAY
The #INSPIRE Virtual Torch Relay took place from the 18th of January to the 25th of March and 34 schools across Gateshead signed up to be part of the journey. The compulsory part of the day when the virtual torch arrived was a torch design competition, however there was one simple focus for everyone – to be as active as you could all day! Despite most torch visits taking place when most children were at home, we were so happy to hear the stories of all the fun your pupils had across the two months. The torch even arrived at schools in the heavy snow but that didn't stop the schools celebrating its arrival.
There were fancy dress days, lots of daily miles completed, skipping challenges, dancing and much more. 15 schools took up the opportunity to have branding set-up at their school and have a model torch for their day. You can see some lovely photos from St Mary's, South Street and Fell Dyke Primary school below.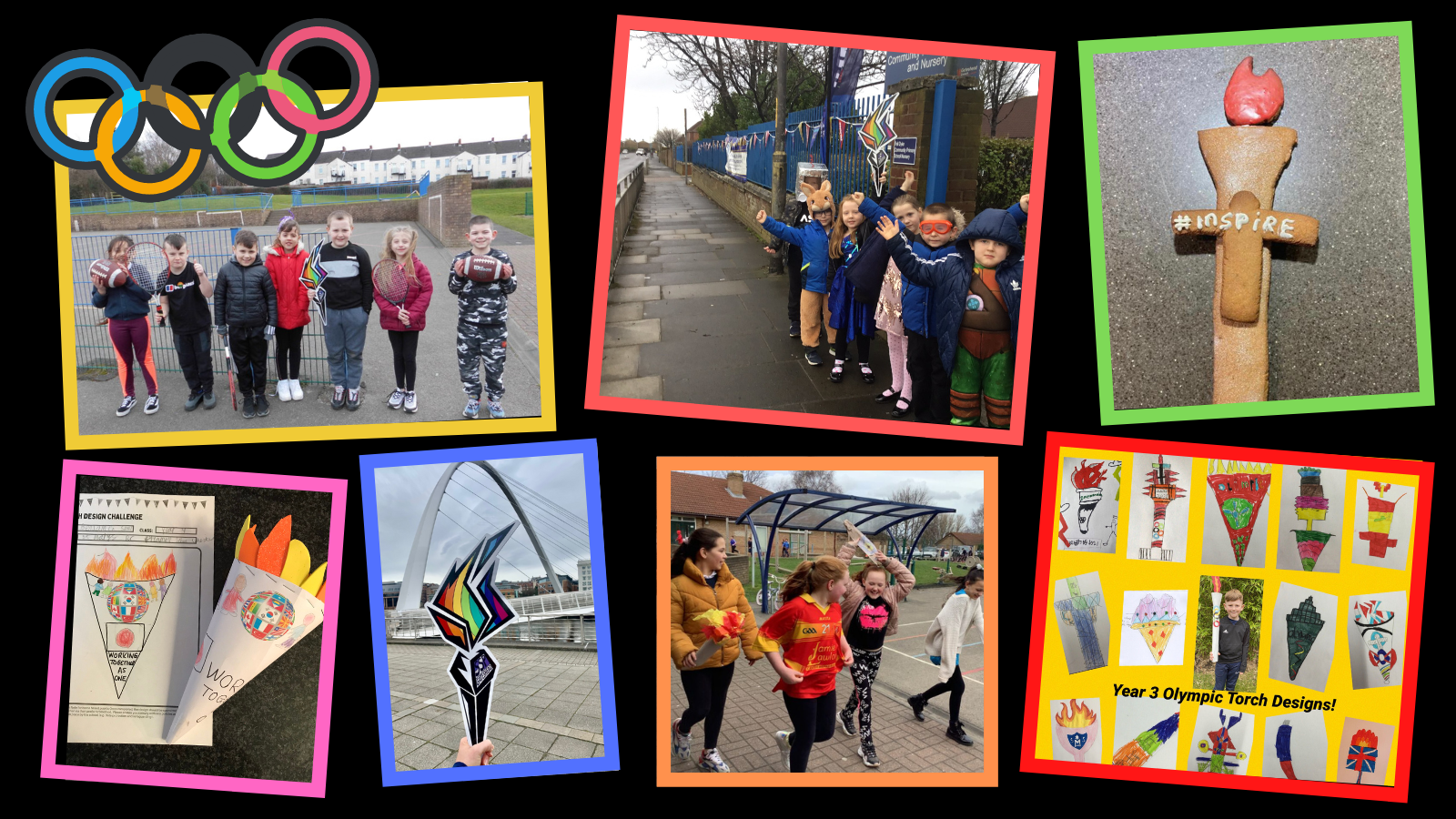 Particpating schools also submitted their entries for the #INSPIRE Torch Design competition and this was the winning design below from a pupil from Falla Park Primary School!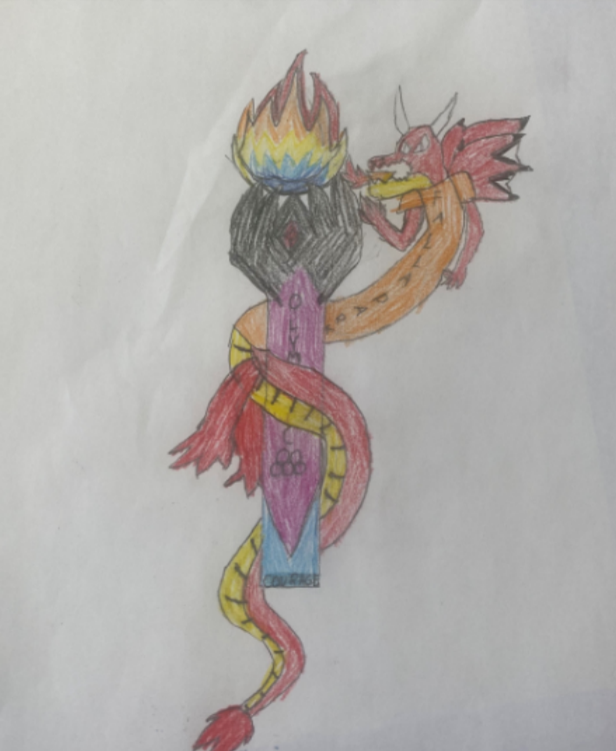 CREATIVE PERFORMANCE SHOWCASE EVENT
The Gateshead Schools Gymnastics, Trampolining and Cheerleading Festival usually takes place at Gateshead Leisure Centre at the start of December. This is a hugely popular event, providing the opportunity for more than 1000 children to showcase their work. Although we were unable to hold a physical event in 2020 we knew pupils would be keen to have a goal to work towards and an opportunity to showcase their work and recognise their achievements.
We hosted a virtual 'Creative Performance Showcase Event'. Participating schools had to create their own routine and share it with us. These routines were then sent to other schools to be judged! Schools also had an exciting introduciton video with hints and tips from Olympic Gymnast Craig Heap!
The winning school as chosen by other schools were Emmaville Primary School!
#INSPIRE WINTER RUNDERLAND
Winter RUNderland was a Christmas themed physical activity challenge. Schools were provided with a range of resources and supporting materials to help promote and reward children's participation in physical activity. Specifically, class groups were challenged to help Santa and his reindeer complete their annual Christmas Eve journey around the globe.
How did they do this?…..by earning lots of carrots of course! And how were carrots earned? …..by being active! Children also had the opportunity to participate in a range of fun, Christmas inspired challenges to help our Winter RUNderland characters as they worked their way from continent to continent.
All participating schools who completed 300 minutes of physical activity in the challenge were entered into a prize draw to win a FREE block of coaching! The winning school was St Augustine's Primary School.
Updated Guidance For Keeping Children Safe Online
As we encourage the use of social media to share your experiences with us for #INSPIRE projects (tagging @Gateshead SSP and using the hashtag #INSPIRE), it is also important that we all ensure online safety guidance is adhered to. Please view the guidance and resources below around online safety:
The Department for Education have recently updated their guidance for parents and carers to keep children safe online. The measures announced to tackle coronavirus (COVID-19), although essential, have disrupted people's day-to-day lives.
As a result of these necessary measures, almost all of us are likely to be spending more time online, including children. This guidance contains resources for parents and carers to help keep their children safe online.
The Gateshead School Sport Partnership have also collated a range of online safety resources below to assist you with keeping young people safe online:
UKCCIS - Children Online Safety (Social Media Guidance)
Childnet - Supporting Young People Online (Parent Info Sheet)
Childnet - Online Resources for Parents
Childnet - Let's Talk About Life Online